Half-naked mum sprays her 'BREAST MILK' at festival crowds as fellow ravers lap it up in bizarre video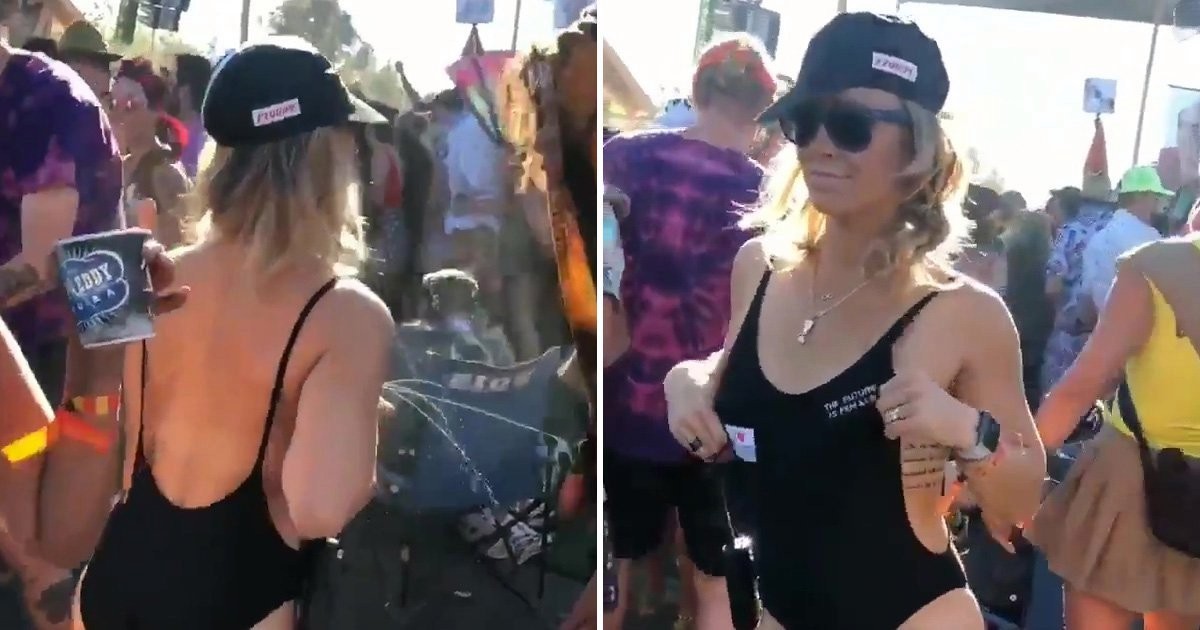 We all get a little weird at festivals and show a bit more skin than we normally would, but this girl took it a little further… we're not sure whether to be impressed or disturbed tbh. 
Dressed in a skimpy black leotard, black hat, sunglasses, and red shoes, she began fiddling with her outfit and threw a few moves on the dance floor — but no one realised what was about to come.
Seemingly intent on proving her party-loving days are not behind her, the new mum pulled aside her skimpy swimsuit to flash her breast.
But she then shocked her fellow ravers when she apparently started to squirt her own breast milk at crowds "like a super soaker".
One reveler screamed in surprise and another yelled "oh s**t".
Another female raver at Dirtybird Campout shouted out "how is she doing that?"
Undeterred by the mixed reviews, the new mum continued dancing and spraying the crowds.
Another woman showed her support by kneeling down in front of the blonde mum and trying to catch a few drops of her milk in her mouth.
One person said: "Yooooo breast milk is like f****ng gold and she's just squirting out like it's water?"
The strange video was captured by festival-goer Eric Falconi, who had thought he had "seen it all" at a rave.
He tweeted: "[Dirtybird Campout] you never disappoint. S**t got pretty weird."
The clip was filmed at EDM at Dirtybird Campout in Southern California last month and has been doing the rounds on social media, where it's picked up millions of views and, of course, plenty of comments.
Most people couldn't seem to quite believe what they were seeing, with one person saying: "Okay but how does she produce so much milk?"
Another added: "Yeah ravers are weird and it's confirmed now."
A third defended the woman, writing: "[I don't know] why people make a big deal over breast milk."
An EDM events account replied saying: "The breast milk is not a big deal, her squirting it like a super soaker is."
She got mixed reactions from the crowd – most people were in a state of disbelief and shock, while others loved it.
Still, everyone in the video seems pretty happy about it, don't they?
Dirtybird Campout, Just when I thought I had seen it all. You never disappoint. Shit got pretty weird #dirtybirdcampout pic.twitter.com/hohsM73ftN

— Eric Falconi (@ekid_818) October 8, 2019